Careers
Job Opportunity
Position: Manager, Negotiations, Contracts and Research
Key Activities
Planning, organizing and controlling the activities and operations of the Negotiations/Facilitation Unit, the Subsurface Land Unit and the Research Unit.
Identifying, developing and promoting creative, innovative and timely disposition options and advising First Nations on strategies to promote the exploration and development of their oil and gas rights.
Conducting or assisting First Nations in conducting tripartite disposition negotiations involving First Nations, industry and IOGC.
Reviewing, recommending and approving all oil and gas exploration and development agreements and subsurface contracts, including necessary title research, to ensure they reflect what was negotiated and that they meet all internal, contractual and regulatory requirements.
Overseeing the development and implementation of standard subsurface precedent agreements, and providing expert advice to the Director Lease and Royalty Administration Division and the CEO with respect to negotiations, issues and drafting problems.
Reviewing, evaluating and advising on all offers, recommending draft counter offers and writing synopses of agreements, meeting memos and Band Council Resolutions (on behalf of First Nations).
Liaising with other IOGC staff to provide land related expertise and advice on potential dispositions and related issues.
Analyzing Treaty Land Entitlement (TLE) implementation issues to determine their impact on IOGC; consulting with in-house staff, First Nations and industry on a case-by-case basis on all aspects of the implementation of the TLE process; developing and recommending solutions in consultation with First Nations, federal negotiating team, industry and provincial governments.
Analyzing, evaluating and recommending on issues such as leasing trends, sale prices, and policies of competitive leasing regimes.
Only on-line applications through jobs.gc.ca are accepted.
Indian Oil and Gas Canada (IOGC) offers a unique work experience. Employees gain a distinct perspective on the oil and gas industry and a greater appreciation of First Nations.
Life-work balance and a family-friendly work environment are encouraged. As part of the Government of Canada, IOGC offers a full range of excellent benefits.
IOGC employs many of the same types of professionals that work for companies in the oil and gas industry, such as petroleum engineers and landmen. If you are interested in working at IOGC, please contact IOGC.
You may also wish to have a look at some of our related publications:
IOGC is located away from Calgary's hectic downtown core at the west end of Anderson Road on scenic Tsuu T'ina First Nation lands. The office building is adjacent to Buffalo Run Golf Course and driving range. Enjoy the fresh air from the mountains and the view as you arrive at work.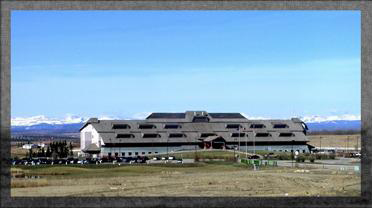 Date modified: