ARCHIVÉE - Le point sur la modernisation de la Loi, du Règlement et des systèmes (MARS) - Volume 2, numéro 2
Renseignements archivés
Cette page a été archivée dans le Web. Les renseignements archivés sont fournis aux fins de référence, de recherche ou de tenue de documents. Ils ne sont pas assujettis aux normes Web du gouvernement du Canada et n'ont pas été modifiés ou mis à jour depuis leur archivage. Pour obtenir ces renseignements sous une autre forme, veuillez communiquer avec nous.
IOGC Quarterly Newsletter
Reporting Period – July 1st to September 30th, 2012
Since our last newsletter considerable progress has been made toward completing the development of the policies that will be used to develop the new Indian Oil and Gas Regulations.
As we have previously updated, there are 10 regulatory modules being prepared by IOGC.  Three of the modules are completed and have been submitted onto the next step of the development process, they are: Drainage and Compensatory Royalty; Surface Tenure; and Conservation.  Recently the Exploration Module was completed and also submitted.
The Subsurface Tenure, Environment and Enforcement modules are on track for completion by the end of calendar year 2012 while the Moneys Management module, dependent on all the other modules, will be completed by March as planned.
Work on the remaining modules is ongoing and further updates will be provided as milestones are met:
Royalty Administration
Royalty Formula
The consultation and joint development activities with the Joint Technical Committee (JTC) have been in high gear with monthly meetings and a great deal of work going their way.  The JTC plays a very important role in the process as their knowledge and input helps to lead to the success of this project.  Wider input from individual First Nations occurs now only on an as-requested basis, yet over the coming months pro-active measures will be taken to engage and consult with all oil and gas producing First Nations.
Interest from the oil and gas industry in consultations on the regulatory amendments has been increasing as we near some important milestones.  While IOGC endeavours to accept all industry invitations to discuss the amendments, a formal consultation process is not planned to begin until we have completed the policy basis for all modules.  This is important to ensure that when we engage industry we have a full picture of the range and scope of amendments, not just each individual piece.  This consultation process will occur well before the pre-publication of the drafted regulations to ensure that industry input is discussed and considered before final decisions are made on the content of the amendments.
The Business Process Modeling of the "Design State" has been deferred in order for IOGC to gather material for JTC review and for the regulatory drafters. "Design State" process mapping is now projected to be complete by March 2013.
Informatics enhancements are proceeding on schedule. By the end of June, documents seeking Treasury Board spending authority were proceeding to internal departmental review by the Information Management Branch. The final document is projected to be submitted for Treasury Board Secretariat review in early 2013 and should be ready for Treasury Board Ministers' consideration shortly thereafter.
IOGC has been conducting a study on the benefits of joining the PETRINEX. The membership of this authoritative data source currently includes Alberta, Saskatchewan, Manitoba and Statistics Canada. The first part of the expected two-part study is projected to be complete by April 2013.
Along with managing the business and technical side of change, effectively dealing with the "human" side of change is a priority at IOGC. Efforts are currently underway to contract for management of change services throughout the expected life cycle of the MARS Project.
For further information, please contact IOGC at:
Indian Oil and Gas Canada
100 – 9911 Chiila Blvd.
Tsuu T'ina AB  T2W 6H6
Phone: (403) 292-5625
Fax: (403) 292-5618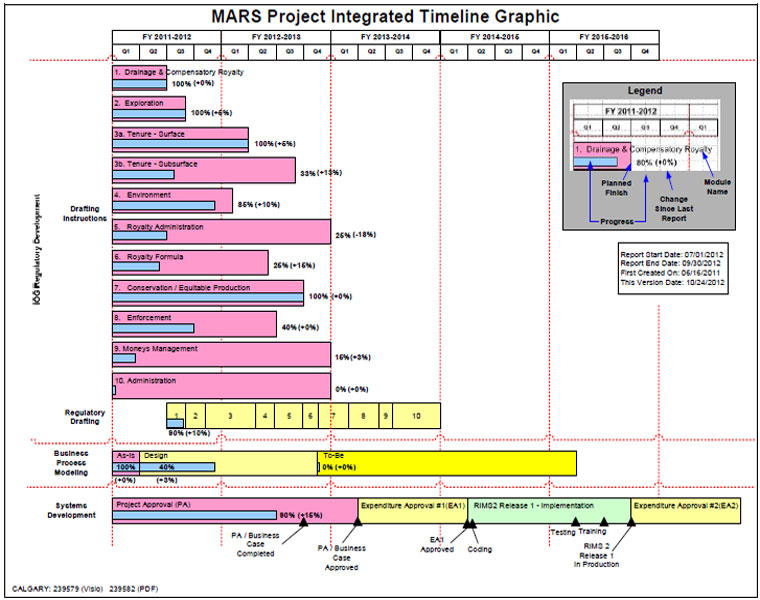 Date de modification :